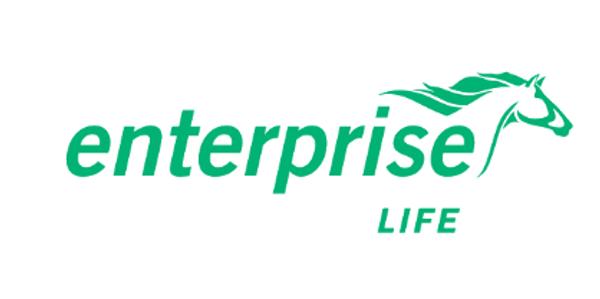 Industry
Banking, Finance & Insurance
Enterprise Group
Industry
Banking, Finance & Insurance
About Enterprise Group
The Enterprise brand is based on the concept of "The Thoroughbred"
"The Thoroughbred is a horse of outstanding pedigree with an inherent disposition to be the best". Born of outstanding parentage, excellence is just our nature.
This endows us with sheer power and muscle, which enables us to deliver the quality service and solution our policyholders desire and expect that is why our policyholders confidently testify that, truly, they are 'Rest Assured'
Our Brand
The Enterprise Life brand is based on the concept of "The Thoroughbred". The thoroughbred is a horse of outstanding pedigree with an inherent disposition to the best, born of outstanding parentage, excellence was just their nature.
This attribute could be associated with Enterprise Life Assurance Company, mainly as a result of our distinctive and purebred and high performing parental lineage. Enterprise life was therefore born with a hope of delivering the best in its area operations as shown by its parents.
Over just five year Enterprise Life Assurance showed compelling evidence through our results that, indeed we are true thoroughbred, with dramatic increases in premium income and market share.
With an effective strategy an exceptional distribution model and consistent hard work at the pace of a thoroughbred, Enterprise Life Assurance Company then known as ELAC attained a 3rd place ranking at the end of 2005
BRAND ENHANCEMENT
The fifth year saw the amendment of our logo with introduction of a visual of the thoroughbred horse, signifying the advancement in our race to excellence. The thoroughbred however, is allowed to race competitively from age five.
This was representative of Enterprise Life Assurance Company Limited which had come of age; having delivered on the promise it held as a result of its parentage and can now be seen in the light of its own ability to perform.
The previous brand pointed to what we could achieve, by virtue of our parentage, just like the thoroughbred, the brand always pointed to the promise of what we could deliver. The new phase of Enterprise Life Assurance company was poised and ready to deliver an outstanding performance, and true to this Enterprise Life Assurance Company limited has maintain an above market growth status till date.
THE NEW BRAND - ENTERPRISE LIFE
In June 2013 the Enterprise group carried out a rebranding activity which saw an adoption of the thoroughbred as the group logo and its subsidiaries, a change of the corporate colours and other corporate identity elements. The name Enterprise Life then replaced ELAC, an acronym formally representing Enterprise Life Assurance Company Limited.
Company Gallery

Company Information
Head Quarters
Accra Ghana
Stay Updated
Join our newsletter and get the latest job listings and career insights delivered straight to your inbox.
We care about the protection of your data. Read our privacy policy.